Thank you for dropshipping and print-on-demand (POD) services. Building your online business is now low-cost and time-saving. However, choosing the right eCommerce services can be tricky. There are so many to choose from, and each may have its expertise, characteristics, and strengths.
There are plenty of services or platforms for starting your eCommerce shop. But, which one should you go for? We have compared some of the top services in the market, and present you with this review here. Hopefully, we can help you make the best decision for your business.
Whether you are an artist/designer or not, POD is one of the business models to start. You can easily upload your designs and print them on different products. You do not have to maintain inventory or deal with packaging and shipping. No wonder why beginners are eager to give it a try, and the user base is growing rapidly these years…
It is hard to decide on the best services, because everyone has different needs or plans. Our goal here is to provide information that can help you find the best fit.
---
POD services: Fulfillment vs Marketplace
First things first, it is important to understand the two different types of POD: fulfillment and marketplace.
To some extent, they do the same thing for shop owners. This includes services in manufacturing, printing, packaging, and delivering services. Marketing is possibly the area that separates them.
Fulfillment
The advantage of POD is that the service handles all the steps once the orders are received. Shop owners forward the order to the service and make payment, and that is it. You can even choose to have the orders automatically forwarded in most cases.
It will handle the remaining processes for you. There is no need to pre-purchase and stock any inventory, prior to selling the items. It saves you money for renting a warehouse and hiring additional staff.
Dropshipping and POD services behind the scene
A POD fulfillment service is basically the backend of your store. You need a storefront to present and sell products, but it is not the responsibility of such fulfillment services here. In this case, you have to build or/and host your online store somewhere, i.e. the storefront.
Most support popular eCommerce services, including Shopify, WordPress/WooCommerce, or marketplaces, such as Etsy.
Working seamlessly with your online store
Most of these POD fulfillment services offer easy integrations with popular platforms. This way, you can import products directly from the services, and then sell them in your store. It also takes care of order synchronization. This is two-way: You forward the orders to the service for production, and later monitor the status on your store dashboard.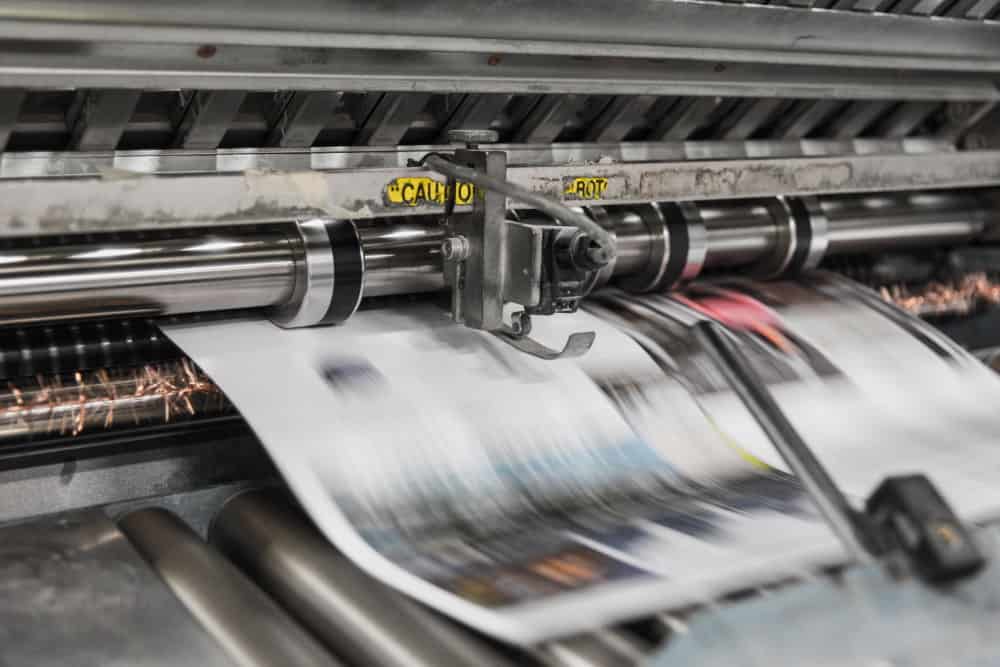 ---
Marketplace
In case you have not owned an online store, you may opt for POD marketplace platforms instead. You simply register an account and run your own store there.
The advantage is that the service takes care of most of the work for you. This way, you can save time in dealing with web hosting, marketing or security, and then focus on your design and products. It is similar to renting a stall or counter at a shopping mall. Shoppers are gathering for merchandises, and this brings constant traffic to the venue. And, individual stores can then take advantage.
Even better, the providers are going to handle customer service for you. This could be a lifesaver for some shop owners…
Take advantage of organic traffic
Best of all, visitors come to the place on purpose, i.e. looking for something to buy. You can benefit from this valuable organic traffic, even if you are not aggressive in marketing. It would be suitable for beginners, who may not be familiar with SEO or online advertising. Your customers can reach your shop and products through keyword searches in Google, or within the marketplace.
However, if you aim to build your own brand and business, selling in such a marketplace may not be as helpful and beneficial. In fact, these POD marketplaces usually offer users fewer or limited branding features.
Be a standout from millions of search results
Also, you are going head-to-head against your competitors here. A keyword search can easily bring up millions of search results in the marketplace. You do need to find a way to stand out from the crowd.
On the other hand, even if you can catch the attention, you are facing a direct battle with your rivals. It could be a price war for similar products and designs, and everyone is trying hard to lure customers away.
Another disadvantage is that copycats may steal your best-selling ideas. Your fellow shop owners could duplicate your creations and undercut you. Some marketplace platforms are starting to operate with policies that try to protect copyright.
In summary, there are advantages and disadvantages to POD fulfillment and marketplace platforms. The former is best for anyone looking to build a brand. Shop owners can enjoy public exposure through the latter. So, it needs to take anyone's business goals and future plans into account.
Let's have a look at the details of some top services, and see if you can find the best fit for your business…
---
Top POD Fulfillment Services
Printful is one of the biggest names in the market. Its strength is the consistency in providing good quality, because the printer services are owned by the company. Also, it supports plenty of eCommerce platforms and integrates with your store anywhere.
One of the top POD services in the market
One of the major concerns in dropshipping these days is the shipping time. Printful is one of the fastest in turnaround and shipping. Their printing facilities are located worldwide. This way, you can ship products to customers from the nearest location.
The user interface is friendly and straightforward. Beginners should find it easy to design and manage products. It offers a variety of options for printing. This includes traditional printing, embroidery, engraving, and sublimation. The availability is subject to each item.
Printful has built a system that helps shop owners manage their businesses. This includes a discounted sample order with free shipping. It helps you save the budget and test the quality of the product before putting it on the shelf. You can even find a warehousing service, should you prefer holding inventory.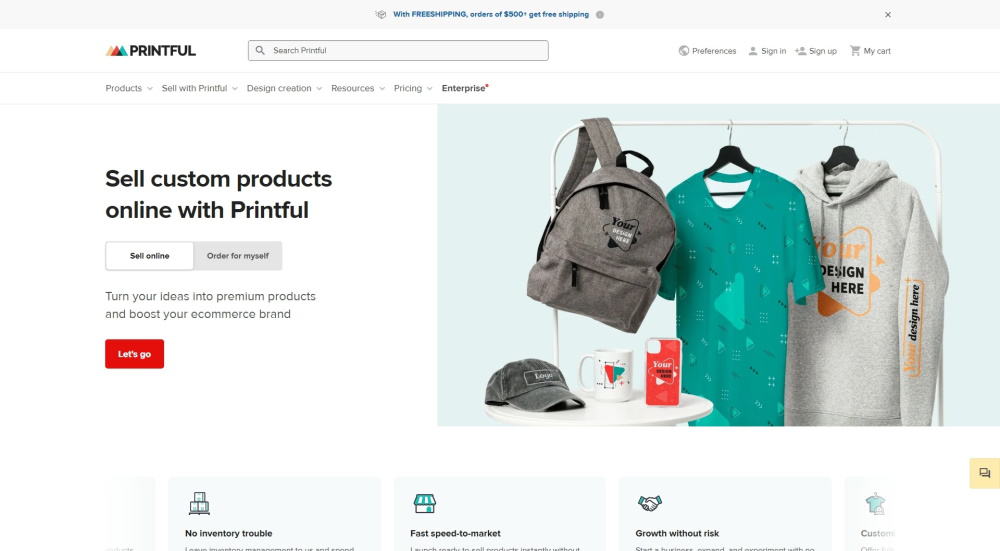 Great for developing brand and business
If you are serious about developing your brand, then Printful is among the best options. Additional features are available, such as customized labels for the products (inside and outside). You can also print brand logos, custom packing slips, stickers, and a personalized gift message on or with the package. These are crucial to bringing brand awareness and building relationships with customers. Even better, most of the above are free.
Last but not least are the paid features, which include product photography services and branding design. These can be very beneficial for online businesses.
More expensive than the competitors
However, things do come with a price. Generally, Printful charges more than other platforms overall, including product prices and shipping costs. It means that your company's profit margin will be lower.
Printful provides users with certain marketing features. Unfortunately, they are quite limited in the free plan. But, if you mean to build a brand and business, this is no doubt the service on your list.
The service also has the best educational resources, including demo videos. So, beginners can get familiar with the tools quickly. Printful Academy is the place where one can learn more about digital marketing or design techniques.
| PROS | CONS |
| --- | --- |
| Reliable product quality | More expensive |
| Great features for branding (white label) | Lower profit margin |
| Extra values like warehousing, customized labels | Some marketing features are limited for free plans |
---
When talking about Printful, you can often see the name Printify close to it. This is another POD fulfillment service that occupies a top position in any review or list.
The main difference with Printify is that they do not own printers. Instead, they act as an intermediary or a middleman in the process. The service cooperates with providers around the world to produce and deliver goods.
Some less common product options
Printify has an excellent product range with over 600 items available. This includes something less common like scented candles, suitcases, and Bluetooth speakers.
It has a few edges over Printful, including lower prices and fast shipping times. Service providers compete with each other and help reduce costs. You will always find someone who is close to you and able to deliver quickly.
Premium and Enterprise plan subscribers are eligible for extra discounts on orders. How much you can save depends on the number of sales you have made.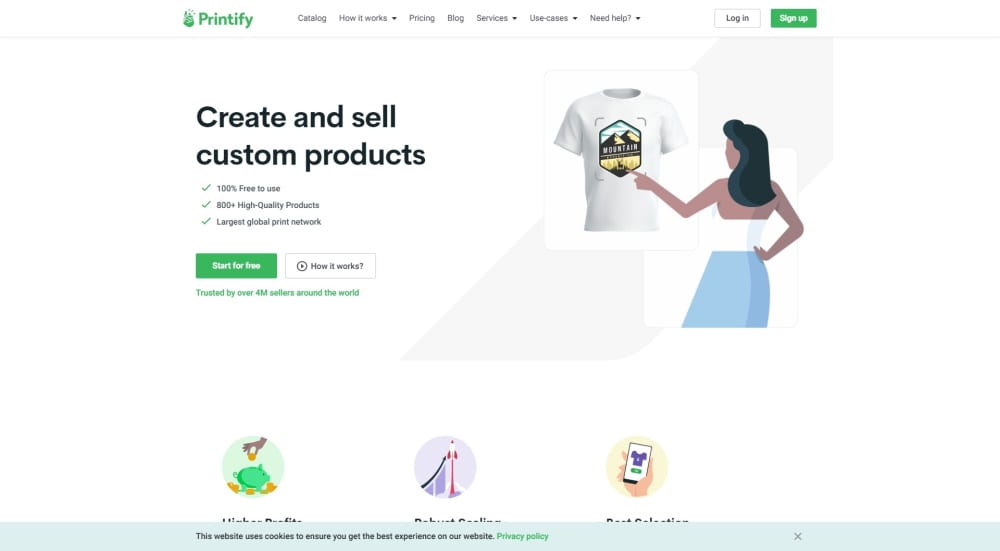 Faster shipping from printers worldwide
Location is not the only factor to consider when placing orders. Unfortunately, not all providers offer the same products or have all the options available. For example, a provider may offer 10 different color options, while there is only a handful in others.
Here comes a situation in ordering: What if the product is out of stock or unavailable from the printer? Printify has developed an order-routing system, to make things easier. Your order will be automatically directed to another available printer, in case the above happens. Please note that this may incur an additional charge. Not all providers sell at the same price, and shipping fee also varies from location to location.
Don't worry. Printify has provided an option that allows you to manage this upcharge. You can enable auto-routing, only if this additional fee is below a threshold. Otherwise, you will receive an alert via email, and ask for further instructions.
Product quality and customer service may be some issues
The biggest concern here is product quality, which varies from printer to printer. It is difficult to predict or estimate before actually receiving the goods. Printify tries to help ease the headache: There is a ranking system to assist users in picking providers. Scores are based on the number of reprints and production times, etc., which can be a useful reference.
The above business model may cause concerns about customer service. As each provider operates independently, so does customer support. Printify cannot control or manage any of them. They need to reach each one for information, upon enquiry from customers. Naturally, this would lead to a longer response time.
For instance, a customer reports a problem to Printify, who contacts the relevant service provider and waits for a response… until Printify is finally able to get back to you. The situation would go even worse in peak seasons. It simply takes some time to gather up-to-date information from all the printers.
However, the problems mentioned above seem to have improved recently. As more and more providers join the ranks, competition has led to significant improvements.
In summary, if you want a cheaper option, Printify should be one to consider. Especially if you plan to sell to customers worldwide, you can take advantage of all the printers for fast shipping. However, unlike Printful, it does not offer a bulk discount…
You may want to order a sample to evaluate the product quality, and know about the printers. However, the discount for sample orders only applies to Printify Premium Plan subscribers.
| PROS | CONS |
| --- | --- |
| A wide range of products | Quality may vary |
| Products shipped from the nearest location | Limited branding features |
| Lower costs | Customer service takes time to get a response |
---
Gelato is a UK-based POD service company. Its business features like Printify, in that it does not print in-house. Gelato actually has one of the largest networks of printing houses. The system helps pick the closest location to ship the products to your customers. It also has a faster processing time than most rivals.
Customers may see Gelato as more of a specialist in paper products. They have added more varieties to their product range, such as clothing. Still, art prints and posters are probably their trademark products.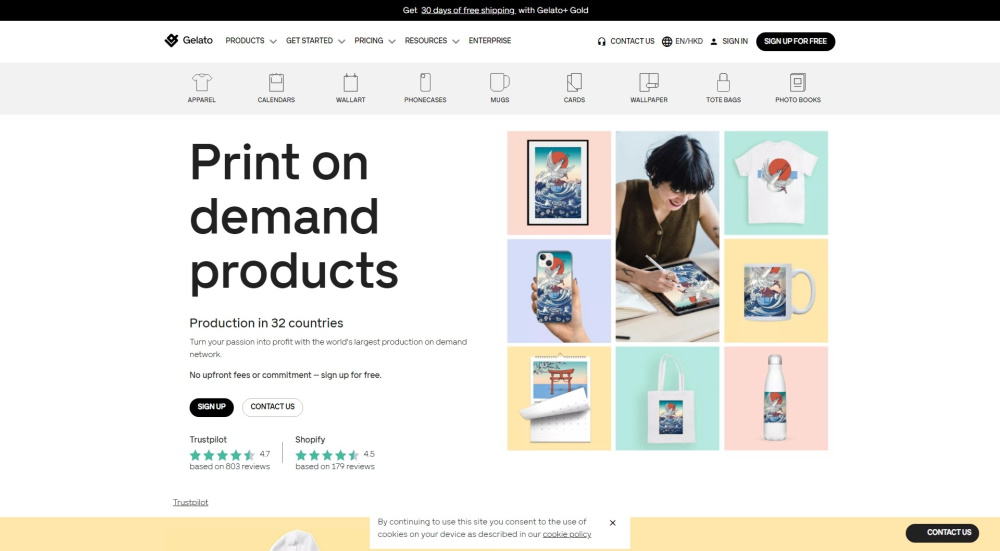 Good for selling outside the US
Its overall cost is cheaper than Printful. In some countries, especially outside the United States, this can be more significant. It also offers discounts on orders to help you reduce costs. However, the prerequisite is the number of sales in the previous month.
Likewise, Gelato also provides an API connection, which integrates the account with your stores on many platforms.
Product quality again proves to be a concern. This is common with outsourced services like Printify. Here as the system picks the providers for you, there may not lead to much competition between providers. Nevertheless, Gelato seems to have kept the customers satisfied in general.
Great customer service 24/7
Gelato's product selection seems to lag behind both Printful and Printify. Besides, it lacks some advanced printing methods, such as embroidery and sublimation.
Mockups are an important feature in stores that sell POD items. Gelato provides users with basic mockup images for products. Unfortunately, it requires an upgrade to premium plans for more advanced versions.
The service has an edge over others when it comes to customer service. It offers 24/7 customer support via live chat, along with a helpful FAQ and support section. Beginners should have no problem getting things up and running.
| PROS | CONS |
| --- | --- |
| Fast processing time | Limited in product selections |
| Cheaper, especially for selling outside the US | Mockup images are limited for free plans |
| Good customer support | Low competition between printing providers |
---
Top POD Marketplaces Services
Redbubble has over 700,000 artists selling their products there. It attracts more than 30 million visitors every month. This is one of the largest POD marketplaces on the web.
The platform appears to aim at independent designers or artists, who may not have a large following or fan base. Your works and products can gain exposure from the huge organic traffic on Redbubble. The marketplace also runs Google Shopping ads to promote its member's products, provided that yours are featured.
Like many marketplaces, the upload process is "one upload for multiple products". When you upload a design, the system will generate many product options for you, from t-shirts to coffee mugs to wall art. Next, you enable the items you intend to sell, and then customize everything on each the way you like.
A wide range of product selections
There are so many different products available from Redbubble. This can be overwhelming for new users, so better take the time to get your design right…
You are basically running a stall at a shopping center here, and Redbubble provides everything to help you set up the storefront. You can customize your profile, and header image, and connect to your social media accounts. Your audience can hit the familiar "follow" and "like" buttons to engage and interact.
Redbubble also relies on printing partners around the world. So, likewise, product quality can be an issue. But, the major concern for creators is always competition and copyright here…
Prepare for fierce competition and copycats
Since you are up against other brands selling similar products, it may take some time and effort to impress your audience. The situation is: You might be fighting against millions of products in some search results…
Copyright is always a nightmare for any content creator. Your fellow merchants can easily copy your best-selling designs. They then sell their own versions at a cheap price. Redbubble has since acknowledged the issues and provided features to protect your work. Some are pretty basic and simple, like watermarks.
The platform has since applied strict controls or screening on account registration. If the designs you submit look suspicious for copyright violation, your account may be banned by the system. In this case, you are not allowed to operate a business.
Regardless, this is a platform for anyone who does not have the time to run marketing campaigns or have technical knowledge in SEO. It may not have the same customizability and flexibility as running your own store. But, you can take advantage of its convenience and save time, effort, and hassle. This can be ideal for designers and artists, who may not be tech-savvy or marketing experts.
| PROS | CONS |
| --- | --- |
| Huge customer base | Direct competition with shops selling similar products |
| Save your time on doing marketing | Beware of copycats stealing your designs |
| Perfect for independent designs and artists | Limited branding options |
---
This is a new entrant in the POD services market. It quickly gained the attention of artists and customers. Society6 has not yet been at the same level as Redbubble. On the plus side, it means there is less competition for designers and artists.
"Aesthetic" is perhaps the first concept that comes to mind about Society6. The main theme here is home decor and wall art. Most of the designs are connected to patterns and abstract art, rather than pop culture graphics.
Bring traffic via email marketing and social media
Society6 is known for its email marketing as well as social media presence. Your creations will have a chance to catch the eye in front of many marketplace followers.
There are comments about the upload system being too complex. It does provide detailed instructions and notes throughout the process. They are guidelines on what to do next, or any concerns, e.g. the picture size or dimension. The description may be wordy, and it is nonetheless some useful information to help you sort things out.
The storefront option is fairly standard, and similar to the one in Redbubble. You can edit important information related to the artist's biography, following button, and header.
Best for artistic creations
Artistic creations may be more suitable for Society6, instead of pop culture stuff. Before making registration, the style of your creation and products are important factors to consider.
T-shirt is probably the most conveyed merchandise in the POD market. But, apparel items are not the main focus of Society6. It seems to fit better for artworks that are the best in arts and graphics. There is plenty to choose from, from posters to rugs to iPhone cases.
If you feel your work is perfect for wall art, posters, and the like, then Society6 might be the place for you to start a business. This is where art lovers want to shop, and it is now up to you to attract traffic.
| PROS | CONS |
| --- | --- |
| Great for artistic creations and products | Not as much traffic as Redbubble |
| Not as crowded as Redbubble, so less competitive | Not the best places for pop culture designs |
| Good to gain traffic via email marketing and social media | Take time to upload designs and customize products |
---
QPMN (QP Market Network) is somehow different from the POD services mentioned above. It is a POD fulfillment service on one hand, and also has a marketplace in the making.
Whether you own an online store or not, you can work with QPMN either way. In the form of a free plugin, it integrates your online shop on Shopify and WordPress/WooCommerce. More online sales channels will be supported in the future…
Alternatively, you can register a free account with SnapShop in a few minutes. Then, you can have your store ready to do business. It is basically a pre-configured version of the WordPress system, which is a familiar interface to some people. Essential plugins are in place after the installation, saving you time and effort.
Free for POD fulfillment and store creation
Both the QPMN plugin and the SnapShop account work the same way, with the fulfillment system. You can select and import products through the dashboard of your online shop. The next step is to create your designs with the simple builder and place them on the shelf for sale.
Customer orders are synchronized from and to QPMN. You can easily forward orders from your end, and track their status.
QPMN plugin and SnapShop are completely free. All you are paying is the product price and shipping fee, upon forwarding orders. There are currently no premium packages or upgrades, so there are no restrictions on features at all.
Innovative in new product ideas
If you are a puzzle lover or a playing card collector, you may have already heard of QP. The organization is a company listed on the Hong Kong Stock Exchange. It has years of experience in paper products that are appreciated worldwide.
Apart from paper products, there is actually a wide range of products, including tote bags and fanny packs. In addition, the design team has often come up with new and innovative ideas, which take the products to the next level. QPMN produces all the items in-house, and you can always count on the quality.
Take puzzle playing cards for example: This is both for regular card games and puzzles. Speaking of personalization, you can print different designs or patterns on the back of the playing cards, and another theme of a jigsaw puzzle on the face.
Customers can customize on top of your product designs
Here is a special feature in QPMN: Not only can artists print designs on products, but your customers can also customize further on top. This includes writing personal messages to the recipients or adding stickers on the surface or canvas.
Personalized products are known as a new market trend in recent years. Customers are more willing to spend money on those items. This makes your creations a perfect gift idea for your family and friends.
Local designers and businesses from different industries have partnered with QPMN, and operate their online stores with QPMN plugins or SnapShop. This is a good way to fund art creations for artists. For business, merchandise can help brand awareness, and reach both potential and existing customers.
Special offers for a bigger profit margin
Order costs can be reduced here with a bulk discount. You can group orders (products of the same specification, but with no restriction on order dates or locations) into a combined order. This bundled order is eligible for a significant discount. This means a higher profit margin: the more you sell, the more you can save…
Starting a business is never easy, so QPMN also presents a 6-month special offer to give new shop owners a hand. Even if you do not reach the sales volume, you can still enjoy the discount for the first six months. Should your sales exceed a higher threshold, you can even save more!
More improvement to come…
There are several areas in need of improvement in various areas, e.g. the builder system. The company is working hard to improve and develop, and update with new features…
Besides, all products are shipped from Asia, and may not be as flexible as using multiple printers worldwide. Despite that, according to customer feedback, the delivery time is steady and impressive.
If you feel that jigsaw puzzles and playing cards can work perfectly with your designs, QPMN is definitely worth a look. The superior product quality will not let you down.
| PROS | CONS |
| --- | --- |
| Paper products are highly-rated worldwide | Shipping from Asia only |
| New innovative product options | UI still needs work |
| Multiple special offers to help new shop owners save on budget | Product options are limited at the moment |
---
Summary
Choosing a POD service for your business is more than about the price. First of all, you need to consider the business goals and future plans. There are other factors, including the available product categories and the nature of your design.
Each platform has its strengths or specialized areas. You may want to try a few before settling for the right one. Many entrepreneurs actually opt for flexibility and connect to multiple platforms. Most of them have free plans, so you can have a test run as long as you want. This way, you can try and sell a variety of unique products. It presents an opportunity to show off your work to more audiences, and expand your business to different markets.
POD business is expected to continue and grow in the coming years. If you dream of turning your artwork into products, let's start the plan now and get to work!